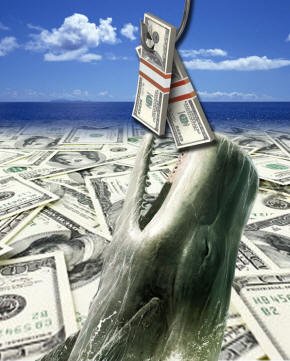 These Will Make Profits Of
300% - 10,000%+ ROI
IN ONE DAY!!
THE BEST TIME TO CATCH A WHITE WHALE
IS AFTER EARNINGS ANNOUNCEMENTS.
I usually update this page on Wed - Thurs
for Friday weekly expiration trades outside of earnings season.
NOTE:
If you have a small account, the best way to build it into big one with my Lotto and White Whale trade strategy is to start with 1 contract each time you make a trade; and then add 1 contract with each profitable trade until you have enough capital to trade at the contract size I do.
Be patient, build your size slowly and you WILL
have a big account in 1 years time!
NOTE: White Whale trades are
ALWAYS
ALL or Nothing
That means NO stop loss on these trades.
FISH for entry points at $0.10 - $0.50 cents per contract.
If you want to buy more than 10 contracts, spread your orders
at different entry points to give you the best opportunity of getting filled.
Massive profits happen in seconds to minutes, so when you do get profits building,
be sure to take some or all of them depending on market conditions.
NOTE: If you are out of the money, take 50% over a 300-500% ROI and let the rest ride!
IMPORTANT: IF YOU ARE NOT FILLED IN THE FIRST 5 MINUTES
I SUGGEST YOU CANCEL YOUR ORDERS
Here is an example of how I place BUY / SELL orders in pre-market trading:
I like to buy my lot then sell half for a 300-500% ROI and let the rest
ride to see how big of a Whale I catch!
The goal for these trades is to make
multi-hundreds to multi-thousands
percent ROI of profits in a single day!!
GREED IS GOOD ON THESE TRADES!
Do not get discouraged if you do not get filled.
Remember, we are fishing for a White Whale
and it takes time and patience to hook one!
AND YOU WILL HOOK MANY IN THE FUTURE!!$$!!
LAST UPDATE
11/17/16 11:30 PM
Type

Symbol

Month

Week

Expiration

Strike

Type

Date

Posted

Strategy

Commentary

Signal

price

Entry

Range

High/Low

Filled Price

Exit

High

Max

P/L

ROI%

Days

New White Whale Trades

-

-

-

-

-

-

-

-

-

-

-

-

Open White Whale Trades

FB

-

-

-

-

-

-

-

-

-

-

-

Closed White Whale Trades

AAPL

NovWk2

11/18/16

112

Call

11/17/16

DSW

WW

.07

Filled

11/14/16

0.05

0

-0.05

(100%)

5

FB

NovWk1

11/4/16

127

Call

11/2/16

WW

Post Earnings

3.50

Filled

11/3/17

$0.07

0

-0.07

(100%)

2

NFLX

OctWk4

10/28/16

123

Put

10/27/16

Friday

WW

Fishing

0.15

Fish

0.15

sell half

300% ROI-

No

Fills

Cancelled

-

-

AMZN

OctWk4

10/28/16

745

Put

10/27/16

Post Earnings

WW Fishing

1.55

Fish

$0.20

sell half

300% ROI-

No

Fills

Cancelled

-

-

GOOGL

OctWk4

10/28/16

845

Call

10/27/16

Post Earnings

WW Fishing

10.10

Fish

$0.20

sell half

300% ROI-

No

Fills

Cancelled

-

-

GOOGL

OctWk4

10/28/16

805

Put

10/27/16

Post Earnings

WW Fishing

13.80

Fish

$0.20

sell half

300% ROI-

No

Fills

Cancelled

-

-

NFLX

OctWk3

10/21/16

125

120

Call

10/17/16

Earnings

Beat

WW Fish

0.13

Filled

10/21/16

0.05

Sell 1/2

0.20

2.60

0.15

2.55

300%

5,100%

DT

NFLX

OctWk3

10/21/16

105

Puts

10/17/16

Earnings

Beat

WW Fish

8.55

Fish

0.10

No

Fills

Cancelled

-

-

NFLX

OctWk3

10/21/16

113

Puts

10/17/16

Earnings

Beat

WW Fish

17.50

Fish

0.25

No

Fills

Cancelled

-

-

AAPL

SepWk3

9/16/16

114

WW

Puts

9/15/16

Profit

Taking

Pull back

0.19

Fish

0.05

No Fill

Cancelled

-

-

GOOGL

AugWk2

8/12/16

800

Put

8/11/16

SGB High

Reversal

0.30

Fish

0.10

No Fill

Cancelled

-

-

FB

JulWk5

7/29/16

133

Call

7/27/16

WW

Trade

0.65

Filled

7/28/16

0.10

0

-0.10

(100%)

DT

AAPL

JulWk5

7/29/16

104

Call

7/27/16

WW

Trade

Filled

7/28/16

0.26

0.10

0.60

+0.50

500%

DT

AMZN

AprWk5

4/29/16

640

Put

4/28/16

WW

Trade

46.85

Fish

$0.20

NO

Fills

Cancelled

-

-

LNKD

AprWk5

4/29/16

139

Call

4/28/16

WW

Trade

3.90

Filled

4/29/16

0.05

0

-0.05

(100%)

DT

AAPL

AprWk5

4/29/16

100

Call

4/26/16

WW

Trade

5.35

Filled

4/27/16

$0.10

0.30

+0.20

200%

DT

AAPL

AprWk5

4/29/16

95

Call

4/26/16

WW

Trade

5.35

Fish

$0.20

NO

Fills

Cancelled

-

DT

NFLX

Feb Wk1

2/5/16

91

Calls

2/4/16

WW

Fishing

0.65

Filled

0.15

0

-0.10

(100%)

DT

FB

Feb Wk2

2/5/16

110

Call

2/4/16

WW

Fishing

1.35

Fish

0.10

NO

Fills

Cancelled

-

LNKD

Feb Wk1

2/5/16

180

Call

2/4/16

WW

Fishing

20.10

Filled

2/5/16

0.10

$0.10

0

-0.10

(100%)

DT

LNKD

Feb Wk1

2/5/16

170

Call

2/4/16

WW

Fishing

25.80

Filled

2/5/16

0.10

$0.05

0

-0.05

(100%)

DT

NFLX

Feb Wk1

2/5/16

95

WW

Calls

2/2/16

WW

Fishing

0.90

Fish

0.25

No

Fills

Cancelled

-

-

CMG

Feb Wk1

2/5/16

490

WW

Calls

2/2/16

WW

Fishing

14.30

Filled

2/3/16

0.10

0.30

+.20

200%

DT

CMG

Feb Wk1

2/5/16

460

WW

Calls

2/2/16

WW

Fishing

31.20

Fish

0.50

No

Fills

Cancelled

-

-

GOOGL

Feb Wk1

2/5/16

845

Call

2/1/16

WW

Fishing

5.30

Filled

2/2/16

0.45

0.90

High

+0.45

100%

3

FB

Jan Wk 5

1/29/16

105

Put

1/28/15

WW

Fishing

.16

Fish

0.05

0

-0.05

(100%)

DT

FB

Jan Wk 5

1/29/16

112

Call

1/28/15

WW

Fishing

0.20

Fish

0.10

No

Fills

Cancelled

-

-

AMZN

Jan Wk 5

1/29/16

540

Put

1/28/15

WW

Fishing

0.95

Filled

0.50

0

-0.50

(100%)

DT

AMZN

Jan Wk 5

1/29/16

600

Call

1/28/15

WW

Fishing

48.75

Fish

0.50

No

Fills

Cancelled

-

-

TWTR

JanWk5

1/29/15

17

Calls

1/25/16

Management

Shakeup

1.23

Fish

0.25

Sell

Half

0.75

NO

FILLS
Canceled

-

-

GPRO

Jan Wk3

1/15/16

12.00

14.00

Calls

1/13/16

White

Whale

Fishing

$2.24

$0.81

Filled

$0.20

$0.05

0

-0.20

-0.05

(100%)

DT

SPY

Jan Wk3

1/15/17

192

Call

1/14/15

WW

Fishing

1.19

Filled

0.05

0

-0.05

(100%)

DT

-

-

-

-

-

-

-

-

-

-

-

-
Type

Symbol

Month

Strike

Type

Date

Strategy

Last

Price

Target or

Filled

Price

Exit

Price

P/L

ROI%

Days

Closed 2015

LNKD

May Wk1

5/1/15

205

Put

4/30/15

White

Whale

Fishing

.53

.10

NO

FILL

-

-

-

LNKD

May Wk1

5/1/15

205

Call

4/30/15

White

Whale

Fishing

49.00

Fish

.25

NO

FILL

-

-

-

NFLX

Apr Wk3

4/17/15

570

Call

4/16/15

White

Whale

3.00

Fish

$.10

NO

FILL

-

-

-

NFLX

Apr Wk3

4/17/15

545

Put

4/16/15

White

Whale

.79

Fish

$.10

NO

FILL

-

-

-

NFLX

Apr Wk3

4/17/15

505

Put

4/15/15

White

Whale

40.00

Fish

$1.00

Cancelled

Not fill at the open

-

-

-

FB

Feb 15

2/20/15

81

Call

2/19/15

White

Whale

.08

Fish

.05

NO

FILLS

-

-

-

FUEL

Feb 15

2/20/15

14

Call

2/19/15

White

Whale

1.85

Fish

0.10

NO

FILLS

-

-

-

PCLN

Feb 15

2/20/15

1200

Put

2/19/15

White

Whale

1.60

Fish

0.25

NO

FILLS

-

-

-

TSLA

Feb Wk 2

2/13/15

195

Put

2/12/15

White

Whale

Earnings Miss

.25

Fish

0.05 - 0.15

NO

FILLS

-

-

-

TSLA

Feb Wk 2

2/13/15

210

Call

2/12/15

White

Whale

Earnings Miss

2.12

Fish

.20

.80

+.55

+320%

DT

TSLA

Feb Wk 2

2/13/15

190

Put

2/12/15

White

Whale

Earnings Miss

11.45

Cancelled

NO

FILLS

-

-

-

GPRO

FebWk1

2/6/15

49

Call

2/5/15

White

Whale

6.70

Fish

.20

NO

FILLS

-

-

-

BWLD

Feb15

2/20/15

195

Call

2/5/15

White

Whale

2.90

Fish

.20

NO

FILLS

-

-

-

GPRO

FebWk1

2/6/15

42

Put

2/5/15

White

Whale

.20

Fish

.10

NO

FILLS

-

-

-

LNKD

FebWk1

2/6/15

260

Call

2/5/15

White

Whale

2.58

Fish

.20

NO

FILLS

-

-

-

TWTR

FebWk1

2/6/15

48

Call

2/5/15

White

Whale

.48

Filled

.10

.70

+.60

+700%

DT

CMG

FebWk1

2/6/15

705

Call

2/3/15

White

Whale

18.30

Fish

1.00

NO

FILLS

-

-

-

CMG

FebWk1

2/6/15

660

Put

2/3/15

White

Whale

5.20

Fish

.50

NO

FILLS

-

-

-

AMZN

JanWk 5

355

White

Whale

Call

1/30/15

Surprise

1.35

Filled

.23

4.50

+4.27

+1956%

DT

AMZN

JanWk 5

330

White

Whale

Put

1/30/15

Surprise

24.35

Cancelled

NO

FILL

-

-

-

GOOGL

JanWk5

490

Put

1/30/15

Miss

3.00

Cancelled

NO

FILL

-

-

-

-

NFLX

JanWk4

400

Put

1/21/15

WW

1.00

NO

FILL

-

-

-

-