Session 1 –

The power of compounding

How many times have you heard this statement, "Money does not grow on trees" and you actually believe it? If that is the case, then get ready to learn how to plant a seed that will indeed build you a money tree to continually pluck from!

If you went through my session on Controlling Losses, then you have begun to understand the power of compounding. If you have not, then STOP right here and start there first!

Compounding your profits at a reasonable rate of 20%ROI is very doable with option trading. In fact, just about every trade I have placed has had, at some point, a 20% profit. The trick is actually taking that 20% because we, as option traders, often get caught up in making hundreds to thousands of percent ROI. Sure, that is possible but you need to go for that with my Lotto or White Whale strategies. As for a consistent gain, we apply compounding to Swing or Monthly strategies.

In fact, here is what you can make with a starting capital account of $1,000 and 20 successful trades at 20% ROI.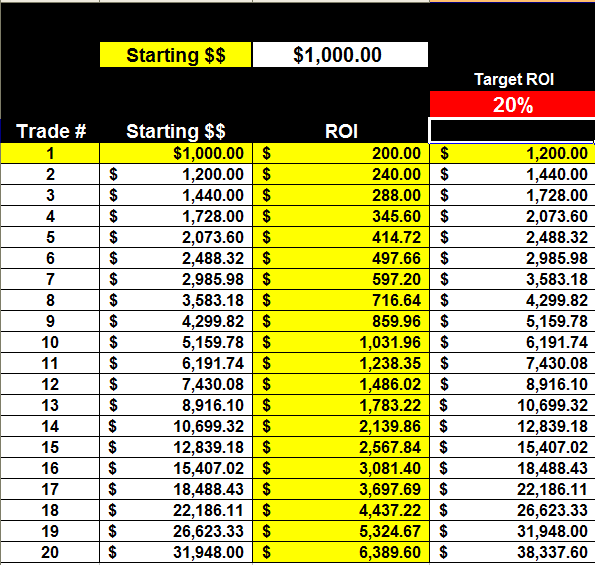 It's a simple concept that just about everyone misses because they focus on the dollars they will make and not the percentage ROI on those dollars invested. Sure, you can make huge dollar gains with options, and that is why so investors usually hold their trades until expiration day with wishful anticipation they are right or "luck" will bring them back, but the result is many times a 100% loss of your capital—in fact, a study at theCME showed that 76.5% of all options contracts expired worthless.
What is missing in most of the education out there is the realities of the "dark side" of options trading. Why? Because the "guru's" of the investing education world will sell you plenty of "sizzle" about 100–500%+ returns, but not necessarily give you the steak about losses. Even I have posted several of these types of trades ideas—of course we know I am very good at picking them—but remember, these high percentage winners are just a piece of the options pie; and once you understand the power of compounding, you may change your viewpoint on what type of option strategies you choose to invest in.
I attest, that if you start to understand this concept I am teaching, you will be able to build your account so fat with profits that it will allow you to hit some of those home run type plays without the fear of loss. Why? Because you will have grown your money tree with a solid foundation of profits vs. a false belief of winning at the expense of gambling on potentially huge percentage plays.
Let me explain a typical options trader.
Most traders (me included) fund an account with less than we actually have to risk and begin to trade. After suffering a few losses, we may actually take a course or two on trading seriously. Once we think we have it all figured out (based on all the sage advice from the "guru" types) then we continue to hit the buy button with enthusiasm giving no regard for the risk we are taking with our money. After all, the course instructor showed us all kinds of huge winners right?...Wrong!
I have found that most would be investors are nothing more than gambling speculators who will never make a consistent profit with options. In fact, most novice investors fail miserably because they are unwilling to practice sound money management and rock solid discipline to trade with a purpose. More often that not, they buy and hope it works out instead of using a well defined trading plan; and then apply careful implementation of that plan.
Let me offer you some sound advice my trading friends: "In the fast paced world of trading (especially with options), hope will NEVER float your financial boat!" You must approach this venture as a diligent investigator with discipline and knowledge first; then you can fund an account and start the journey of trading for profits.
The biggest mistake most investors make when trading stocks and options is under capitalization of their trading account. We start up accounts with the expectation that we can leverage our money into huge profits by using options; however, the challenge with undercapitalization is that you are are dabbling with trading—which translates into gambling.
There is a lot more to trading than gambling; and if you take the time to learn the secrets to properly trading options; you will benefit immensely; however, if you continue to gamble, you are guaranteed to lose all of your trading capital!—been there done that with several small trading accounts.
Why do we approach trading with a gambling instinct? Because we come to it from a position of greed due to the "sizzle" of guru's promising quick riches. Once we start down this road, we realize it's a very tricky one to navigate; and when the losses pile up, fear takes over and we decimate our trading capital by not taking consistent profits or freeze up with analysis paralysis.
I want you to learn from my very expensive and hard earned experience and avoid trading from a position of fear...or better said, fear of loss. There is a very common saying in the trading/gambling world and that is this: "Scared money never wins!" It's true in every sense of the word, and if you start your journey into trading based on the illusion of quick riches, you will find yourself trading from a position of fear that will ultimately lead to a busted account!
I have been trading in the options market for over 20 years now; and I have had some great success as well as some dismal failures; and I have blown up several small trading accounts along the way. Over the years, I have made hundreds of thousands in profits only to lose hundreds of thousands more because I became greedy trying to hit the home runs on just about every trade!
In total, I have put on well over 3,000 options trades with real money; and I have learned many things about trading options in the trenches of hard and expensive experience that a course will never be able to teach you; and nothing but experience in the chair will prove that any education is just the beginning.
Of all of my successful trades (and even my losing trades) the one constant I noticed was just about every option trade I have ever placed, I have had, at the minimum, a 20% profit at some point in the trade. The challenge with this was I did not accept a 20% profit as a good thing because I was trading with a small percentage of my capital, so I did not take those little profits, and in fact, many times those profits became a stopped out loss—a total loss including my initial capital.
For example, if you used $500 of a $10,000 account to purchase some option contracts; a 20% gain is equal to $100.00; and after you deduct the cost of the trade you make less than $80.00 net. It's hard enough to trade the markets, and the time and effort it takes to land a good trade will hardly be rewarded (in your mind) by making less than $80 for that trade. This is why so many traders try to leverage with OTM options; or they let a winning trade go longer than they should have trying to hit those 100–500+% home runs. Sure, you can hit them, but take if from somebody who has lost substantially more than I have made on those home run trades...it does not work in the long run with a small trading account—you need to use my Lotto Strategies strategy if you want to hit the home runs AFTER you have compounded your account large enough to take those hits until the winners come.
The biggest reason it does not work is that you have limited capital to absorb so many losses before you catch a winner. What it does do is set you up for loss after loss that in turn becomes fear and ultimately scared money! If you have $10,000 to risk, why not take $2,000 and use all of it in a strategic option play? Target your minimum profit at 20%, and once you achieve it, set a stop loss thereby guaranteeing you get that minimum profit, and then you can manage it from there. This way, if you get on a monster rally, you know you have made your 20% Options Compounder profit and your game plan is in tact.
Too many times, I see traders get side tracked by the illusion of massive short term profits when trading options. They put on a trade, then see it balloon to massive profits, only to see it get wiped out or stopped out by some unsuspecting news event. They do not take a profit when they should, and most of the time, they sit there like a deer in the headlights watching their investment dwindle when things go bad—I want you to avoid this pain, humiliation and mental devastation and if you learn my secret of compounding, then my job as an educator is complete and you will be on your way to financial bliss.