1/25/13 - Oh the Lotto Ticket that wins TWICE!!!!!!!!!
Below are charts showing you what you can make with WEEKLY OPTIONS on stocks that move like NFLX did.
WOW - you could get RICH speculating with these suckers...wow!
I shorted 50 shares in post market looking for a profit taking pull back Monday. If it gets back over today's high I will cover and short again under $170.00
=============================================================================================
1/24/13 - NFLX is the trade of the year if you were long. WOW and if you were long those $125 calls then you made LOTTO BANK!!!!!!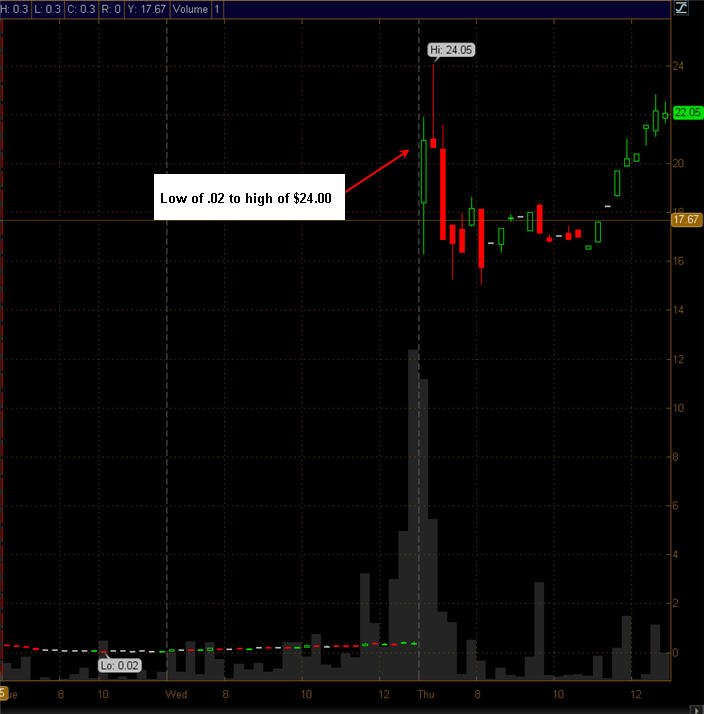 Can you imagine getting in at .02 and selling at $24 today? You could have hit the MEGA LOTTO with $2k
This is one of the BEST LOTTO Plays I have posted to date, but rest assured, there will be more and we need to just be on the lookout for them.
===============================================================================================
1/23/13 - WOW- knocked it out of the park and the stock launched over $30 in after hours trading.
My 100 Call options are going to bank tomorrow! And my 125.00 Lotto play is going to be a HUGE winner.
Here are all the options for NFLX at the close
=================================================================================================
1/22/13 - With earnings being released tomorrow, NFLX pulled back a little today on light volume. With two back to back green reversal bars, there are definitely some sellers afoot so if this stock disappoints, we could get a nice drop and slide back to the 200MA at $75.00 I have found NFLX a tough stock trade for many quarters which means you just have to buy more time to let the trades work out but for tomorrow, I am going to pick up a put lotto trade since I already have long stock.
==================================================================================================
1/18/13 - Patience when trading is what makes for the best opportunities to profit. As you have seen from my comments below, NFLX has given some good trading volatility and with earnings coming next week on the 23rd, there will definitely be a lot more to come. This quarter is going to be the deciding factor if this stock can get over $100 and stay over it for 2013. There are a lot of positive things coming for their future as well as a possible buy out or merger, but I think that as long as this stock is over $100, that is not likely to happen. Companies on the hunt to buy up other companies are looking for bargain prices; and when NFLX was down under $50, that was the bargain.
If you got long back in October, you have just about doubled your money! So, that means you, like thousands of other investors now have a lot to protect and that is why we have an opportunity this earnings season to make a nice profit on NFLX options! A beat gives confidence for the future because of the "future compelling news" of content deals with DIS and Warner Bros. Television Group. and continued world wide expansion will put buying pressure on this stock for the next couple of years—Fund managers and speculators love to buy into stocks with a comeback story and huge potential growth.
Ok, so lets look over the charts for clues; and so far, the last two days of trading has produced my bearish green bar reversal that has proven to be a very reliable short signal with stocks; however, with this particular stock, this could be a change up and create a massive short squeeze if the earnings are excellent and/or an unexpected announcement comes out. That is why I have a long stock position and I trade options around my position with options from week to week. With each profitable trade, I buy more shares as I build a position in NFLX for the long run.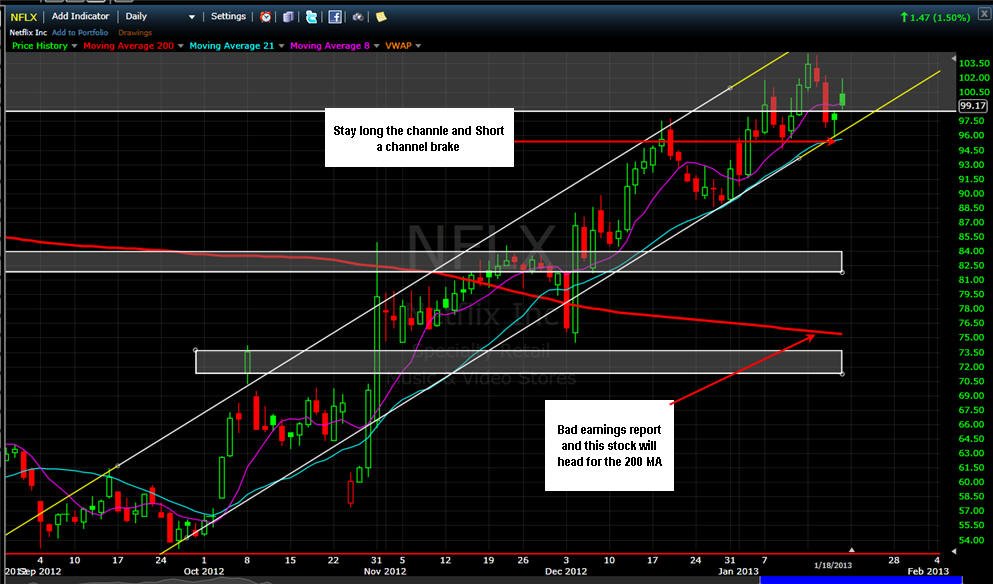 ==============================================================================================
1/9/13 - Sucker punched yet again! That is what a lot of investors/speculators are probably saying if they jumped on NFLX Monday. Remember, when upgrades start kicking in at highs, it time for you to fly. You will make far more money buying puts and shorting stocks on upgrades than you will going long. Now that NFLX failed to close over $100, I will be on the hunt for a bargain price to get long some stock. I like $92.55 as my target entry point.
===================================================================================================
1/7/13 - New content deal = $100 stock price. As I said below, NFLX will reach $100 and it did actually hitting $101.75; however, it did not close over $100 and was heavily sold off back to $97 before some more buying kicked back in. We now know where the speculators sell stops were placed which means we have a price range to base off of or drop from.
The move today was news related in that Warner Bros. Television Group cut a licensing agreement but it's only for US subscribers. This is a piece of good news for the growing content NFLX has to offer it subscribers and it will most likely bring back a lot of lost customers as well as bring in new ones. Time will tell what the total impact will be but for now things are still looking up for NFLX stock price.
I will get long if NFLX gets back over $100 with a strict stop at $94.55 and I still plan on having puts over earnings.
====================================================================================
1/3/13 - New Year and new opportunities are coming trading in NFLX!
Today was a strong day with a 4.98% upside move; however, NFLX failed to close above previous resistance back on 12/18 and 12/19 at $98. I am still looking for the stock to move over $100 which is a major psychological benchmark that has to be taken out.
I am looking for a pull back to add more calls and will be loading up on puts just before earnings, because if they miss again, it's going to be a very nice pay day!
Upside targets are $110 and as you should know by now, when a stock gets over $95 it's a 90% sure bet it will reach $100...lol...I also know that when I start using or hearing words on the newswires like: Sure, Lock, Definite, then I start looking for PUTS. Remember, this stock is primarily up on speculation of a future buyout; and the 10% investment of billionaire activist investor Carl Icahn. I found this story interesting http://money.cnn.com/2012/11/05/technology/netflix-poison-pill/index.html because it shows me the CEO of NFLX is basically pissed off that Icahn is attempting to gain a foothold in his company. On the other hand, this type of maneuver can also be based on fear or greed. Either of these emotions, when it comes to trading, are devastating to your trading capital, so before you jump in with a lot of money on options, you need to think about this company in terms of history vs. future and you may see things in much different light.
Historically speaking, NFLX was a darling to the investment community for many years, and once it lost it's future projections of subscriber growth and reported a bad quarter, this stock was summarily dumped! In fact, what took this stock 19 months to rise to an all time high of $304.79 only took two short months to wipe out 65% of its value and five months total to wipe it all out!!
Of course this stock has a lot of muscle memory, but with the future being filled with heavy lifting competition like AMZN, AAPL, GOOG, CSTR, CMCSA, MSFT and others, can NFLX come back and be the Mr. Universe of the on-demand-entertainment-content? I for one do NOT think it can.—Here is an interesting story on the future of NFLX http://beta.fool.com/chrismarasco/2012/12/04/kf/18014/
So long as Icahn is involved in this stock, there will be plenty of buying pressure due to the speculation of a future sale or hostile buyout, but with the CEO making maneuvers like the "poison pill" there can and will be a battle for shareholder real estate. So what you watch for is an INCREASE in subscriber base world wide, because without continued strong growth, this company is doomed. Even if the company gains users, one thing they cannot do is raise subscription prices.
If you recall, they tried that back in 2011 when the CEO wanted to break up the DVD vs Streaming side of his business. He made (what was perceived as a dumb move) an attempt to break up the company into two different company and even made a foolish name change of the DVD business to Quikster? Of course it was a poison pill to millions of subscribers and no amount of sugar could get that medicine to go down; instead the stock went down, down some more and just about down for the count until Icahn stepped up to the plate.
Ok, so now we know the stock is damaged in the minds of investors (primarily institutional money...which is the only money that can actually move a stock price higher in a big way), there are speculator activist investors involved, the company has lost it's growth mojo and the only thing that can keep any momentum going is stronger content. Well, that is where things keep getting interesting. Last month, NFLX announced a new deal with Disney to start offering exclusive content shortly after they are removed from movie theatre distribution.
This will no doubt bring in new customers, however, that will not have an impact until 2016...huh? Well, that is a very long time in the future and until they start streaming DIS content, it will have to be played out for at least two quarters to prove there is more demand. Now if it becomes a smashing success, then more subscribers means more demand for current and/or relevant content, which means other content providers in the field will either opt out of dealing with NFLX for others like AMZN, GOOG, AAPL etc. or demand higher royalties from NFLX. Either way, NFLX is going to lose revenue and that is all investors care about when they buy stocks...the money the company makes!
As for pushing a stocks price much higher, that takes fund manager money, and all they care about is future revenue growth, so again, if NFLX cannot keep adding subscribers, then the future is going to left to much deeper pockets looking for a bargain to buy their customers—Arrrr, mates! There be where the treasure is hidden.
It's time to start treasure hunting with NFLX!
Profits Up!
The donFranko
=============================================================================
12/28/12 - Can this stock take out $100 in Jan? I do not think it will by 12/31 but if the Fiscal cliff mess gets a very favorable outcome, then all stocks will rise with the buying frenzy/short covering. There still must be a lot of speculators out there looking for NFLX to get snapped up, but if the chart has anything to say, it says SHORT. The challenge with shorting stocks with future compelling news make for a roller coaster of an emotional ride. Best way to play this one is just put in what you can lose and let it take the ride. So far, the ride has been a good one and my DecWk4 95 puts expired $5.67 ITM make this a very nice trade!
Looking forward to 2013, there is a lot of potential if we get a good fix on the cliff mess, but stocks like NFLX will always have their ups and downs, you just have to be willing to take your ride on these types of stocks.
Let's take a look at the charts for out best clues and then trade what we see.
Back on 12/19/12, NFLX gave us a strong Bear 180 sell setup and based on my calculations it has now played out. The next move is going to be a measured move and if this stock fails to get back over $90 then you can anticipate a potential drop back to the 200 MA. So, if you were to take the next ride on this stock, then you would be looking for the Jan 90 or 85 Puts.
The next earnings release is 1/25/12 so depending on the Fiscal Cliff patch or fix, NFLX is going to get volatile. I still have my Jan calls; and if NFLX does pull back, I will be adding more.
There is a lot of upside potential for speculators but the fundamentals of the company are mixed. Remember, this stock is basically broken or very damaged goods until they can make at least two back-to-back solid quarters of profits. Then the big money managers will venture back into this stock. We need to just keep a very close eye on the charts for clear elephant bar signals.
Profits Up!
The donFranko